The /who Window


Gets filled in by typing /who in your EQ council window. This is the first phase of setting up your groups.
You should try to get your raiders to take off /role and /anon so that it will fill in their name, level and class.
"Add to Raid" button allows you to move someonw from the /who Window to the Raid Members Window. You must select the person(s) you want to move to their before clicking this button.
"Status" button currently does nothing.
You can continue to add people to the raid as time goes on.
*tip: you can use "/who all GUILD", "/who LFG", "/who all Soandso" to get people into the /who Window.

The Raid Members Window


This is the next step in building your groups. Once you have added people to this window (from the /who Window), you can assign them to groups, modify their info (class & level).
When a person gets into this window, their "Group" column will be set to LFG.
Adding to Group.


click the "Group" column next to the person's name that you want to add to a group. If no groups exsist, you can create a new group for them.
This will assign them into a group and create a group box in the Groups Window
You can re-assign (or make them LFG) them into another group by clicking their "Group" column again.

"Remove From Raid" button allows you to remove people from your raid by highlighting them and pushing the "Remove From Raid" button.
"Add to Raid" allows you to add people into your raid who are not on-line yet. This also allows you to set up your raid when off line.
"Auto Raid" button allows you to auto-magically create balanced groups. This will try to balance tanks with damage damage dealers with healers.
It should be noted that no computer will ever do this better than a human, so at the very least, the Main Group should be set up by hand.

The Groups Window


Displays the groups and the who's in the group.
"Remove Member" button removes that individual from the group and makes them LFG in the Raid Member Window.
"Delete Group" button deletes the group and puts all members back into the Raid Member Window as LFG.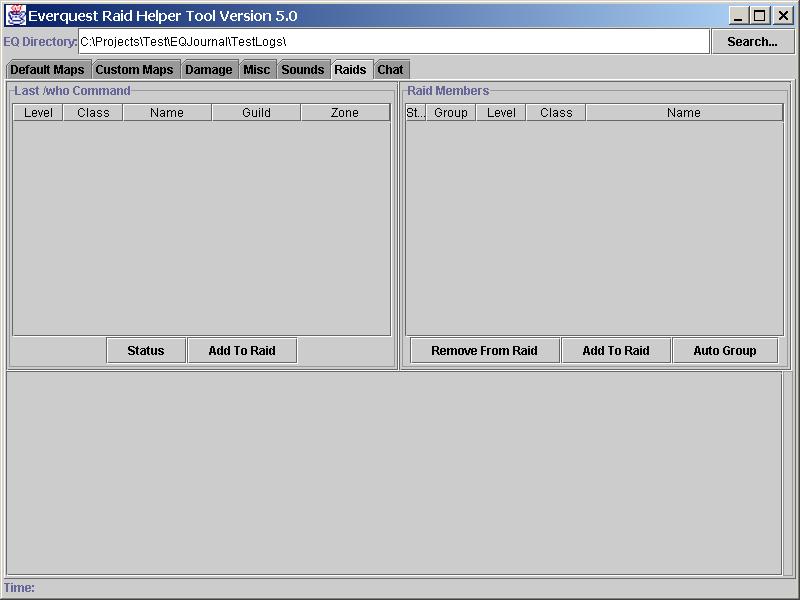 ---
Mail: EQ Raider Last modified: Fri May 24 11:00:50 Eastern Daylight Time 2002